The DIFC Innovation License
Established in 2004, the Dubai International Financial Centre (DIFC) is a prominent financial hub in Dubai. Rapidly growing into a leading global financial centre and serving as a gateway for businesses and financial institutions seeking to capitalise on the region's economic opportunities. DIFC, boasting state-of-the-art infrastructure, robust regulatory framework, and a business-friendly environment, has attracted a diverse array of financial institutions, multinational corporations, and professional service firms. The district provides a comprehensive range of financial services, including banking, asset management, insurance, and capital markets. Playing a pivotal role in economic growth and connecting international markets with the Middle East.
Dubai is a global hub for innovation and entrepreneurship, continually introducing initiatives to stimulate technological advancements and economic growth. The Dubai Innovation License is a license offered by the DIFC innovation hub and introduced in DIFC to encourage technological entrepreneurs to pursue establishing their company and to generate innovation in the business environment.
The UAE has recently witnessed a significant surge in the establishment of technology companies setting up, indicative of the entrepreneurial and innovative landscape available. This trend can be attributed to various factors, including the UAE's flourishing digital infrastructure, the availability of flexible business regulations, and the country's status as a global hub for innovation and technology. The business environment and initiatives promote a culture of innovation and entrepreneurship, along with its strategic location that facilitates access to a diverse clientele from the Middle East, Africa, and beyond. Additionally, a supportive ecosystem comprising of co-working spaces, networking events, and funding opportunities, have made it an appealing destination for technology professionals looking to establish their own ventures. As the demand for specialised tech skills continues to rise, the UAE's conducive business environment is expected to further fuel the growth of thriving tech entrepreneurs, contributing to the country's burgeoning digital economy.
What is the DIFC innovation licence?
The DIFC's innovation licence is described as platform for forward-thinking technology companies across various sectors, which allows technological innovation across the region. The license offers a subsidised fee structure and is available to all technology and innovation-based businesses and enables company growth at any stage of operation. Designed to assist businesses or entrepreneurs looking to develop or explore new and innovative products and services, the license provides companies with the opportunity of a 90% subsidised commercial license and is offered to all technology and innovation start-ups.
The License is subsidised for a period of 2 to 5 years, depending on approval, and gives access to benefits including co-working spaces and discounted visas, including up to 4 visas on the first desk.
How to apply for the DIFC Innovation License:
The application and setup process for a DIFC innovation license is in three parts:
1) Submit the initial approval application via the DIFC portal
2) The application will be reviewed by the Registration Review Committee
3) Receive IP and complete incorporation via the DIFC portal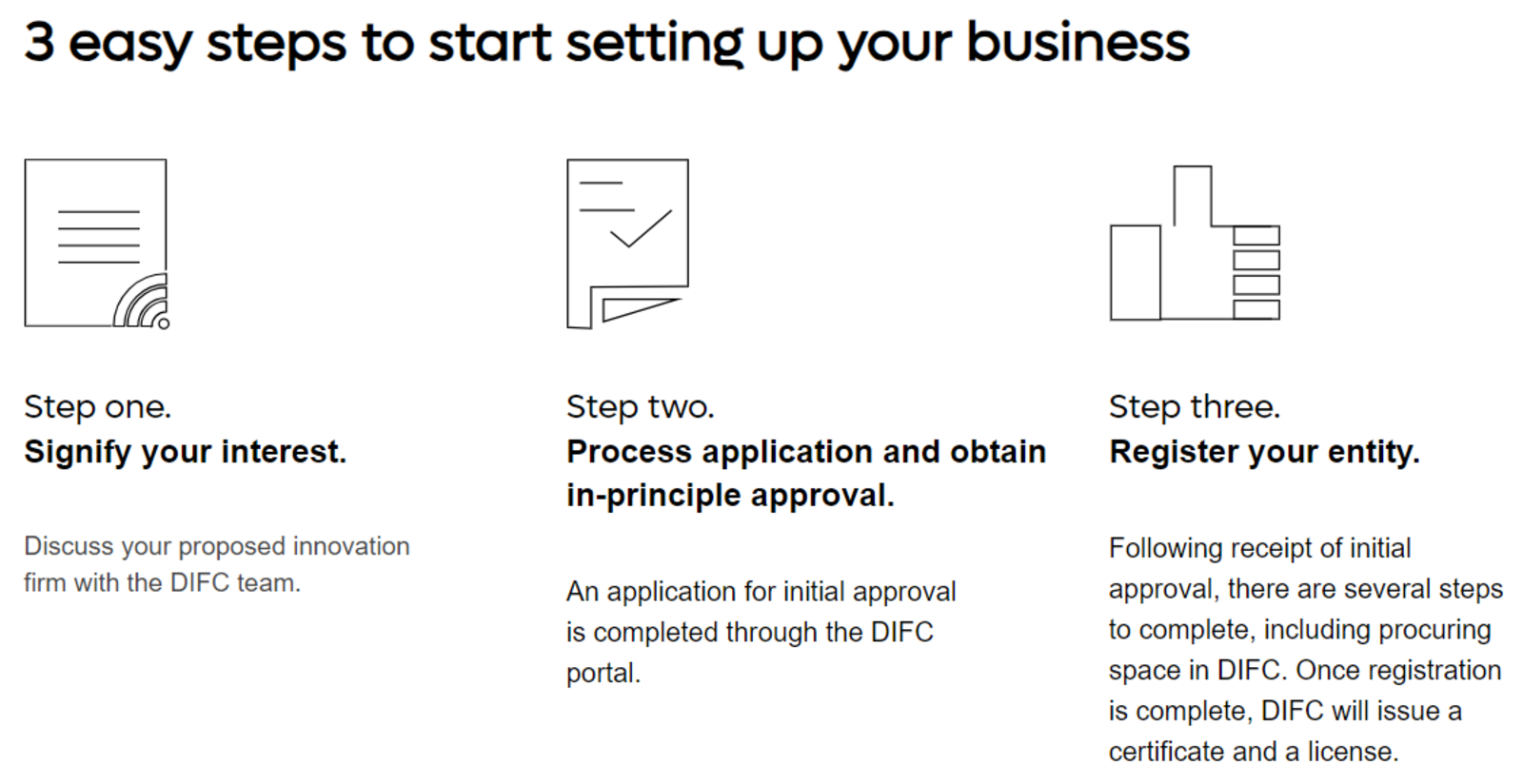 What are the benefits of obtaining a DIFC innovation license?
There are a number of benefits for those companies who obtain a DIFC innovation licence. The most obvious benefit is the subsidised commercial licensing with a low-cost fee structure, including a one-time registration fee, where the licence will be subsidised for 2 to 5 years. However, in addition to the low annual payments, the innovation licence also offers access to:
Workspaces and amenities: A variety of workspaces, including co-working spaces, meeting rooms, and private offices. Members also have access to a range of amenities, such as a café and event space.
Mentorship and guidance: Access to a network of experienced mentors and advisors who can help them navigate the challenges of business growth and development.
Networking opportunities: A variety of events and networking opportunities throughout the year, helping its members to connect with potential investors, partners, and customers.
Access to funding: Access to a range of funding opportunities, including venture capital firms and angel investors.
Visas: Up to 4 visas on the first desk, and discounted visa costs.
What are the business activities and sectors supported by the DIFC innovation license?
The activities that are applicable to operate under an innovation licence are technology and innovation-based activities and sectors. The following activities and their descriptions are applicable business activities for the DIFC innovation license: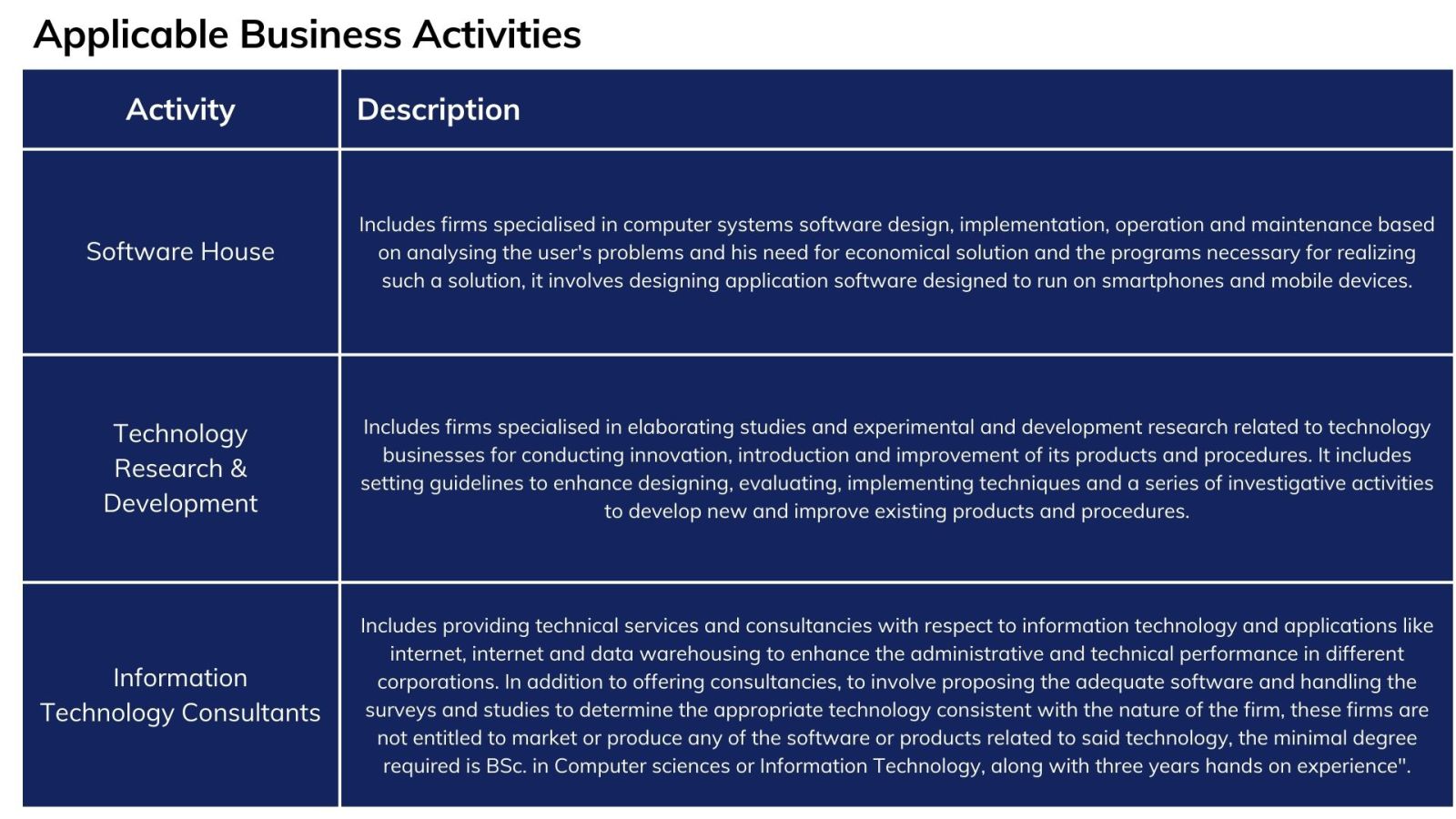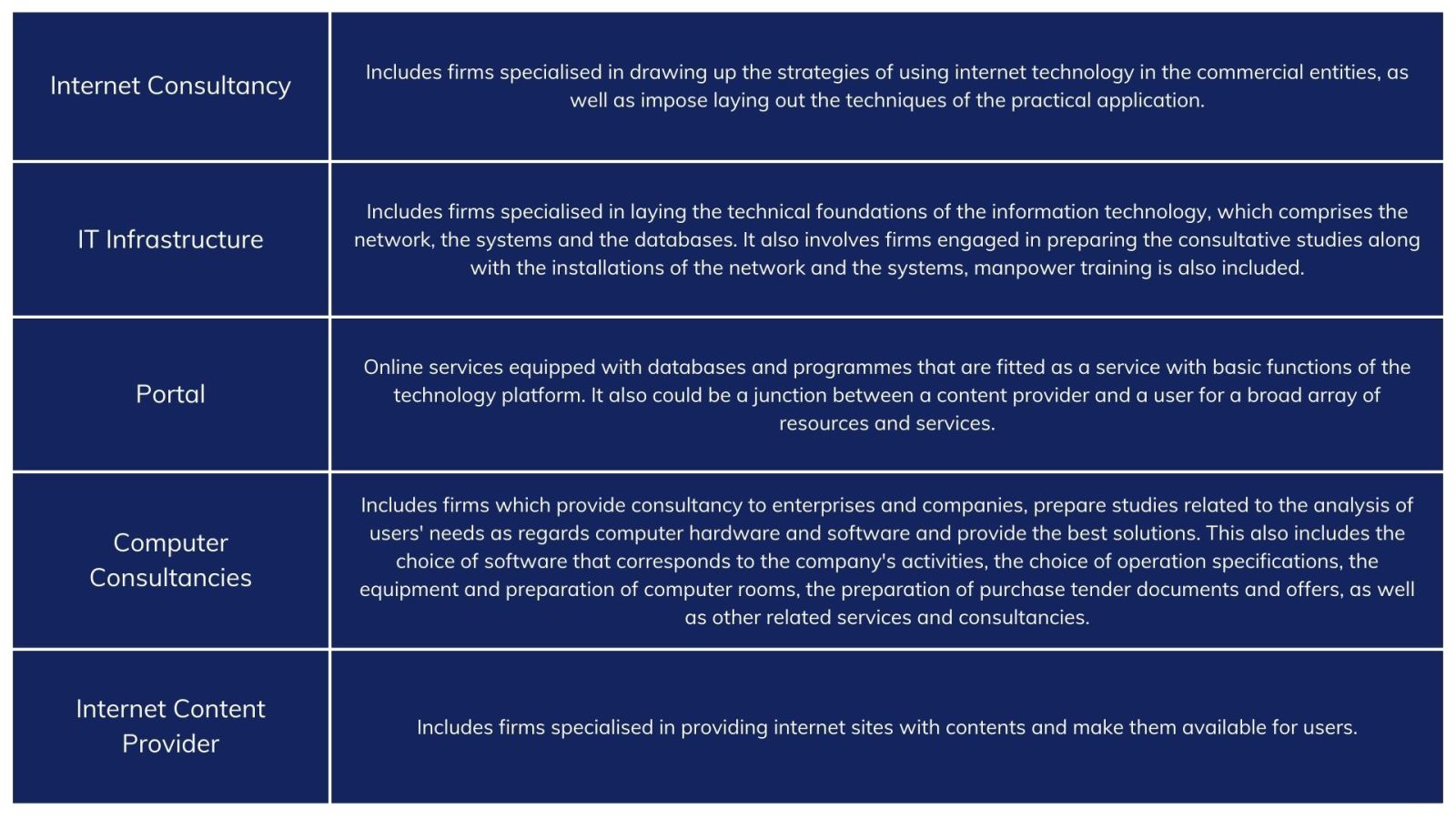 How can PRO Partner Group help?
Dubai and the United Arab Emirates (UAE) have established themselves as compelling destinations for technology companies due to their conducive business environment, robust infrastructure, and visionary government initiatives. The UAE's strategic location acts as a gateway between the East and the West, facilitating global connectivity and trade. With state-of-the-art facilities, infrastructure, free zones, and incentives, the UAE offers an ideal platform for companies to expand their operations and access a diverse market, and thus generates large demand as a base for tech businesses. Moreover, the government's emphasis on innovation and technology-driven solutions, evident through initiatives like Smart Dubai and Dubai 10X, demonstrates a commitment to fostering a thriving tech ecosystem. Additionally, hosting world's largest technology exhibition, the Gulf Information Technology Exhibition (GITEX). The presence of world-class accelerators, incubators, and investment funds further bolsters the appeal for tech companies, providing them with the necessary support and resources to scale and innovate. Overall, Dubai and the UAE present an enticing blend of opportunities, infrastructure, and governmental support, making them a prime destination for tech companies seeking to establish a strong regional presence and explore global growth prospects.
The DIFC's innovation licence provides a popular jurisdiction and low-cost licencing option for tech startups in the UAE. For companies wishing to incorporate innovative and low-cost tech businesses, PRO Partner Group would recommend this favourable option to access this flourishing sector.
PRO Partner Group has in-depth knowledge of the UAE market and close connections with government departments and freezone authorities. We can streamline the company incorporation process, managing all aspects of licensing, visa, labour, and immigration approvals.
If you need assistance with the DIFC innovation licence company registration or any other related onshore or offshore company setup, restructuring, local partner or PRO support matter in Abu Dhabi, Dubai, the wider UAE, Oman, Qatar, Bahrain or KSA, then please do get in touch with us on +971 (0)4 456 1761 for Dubai or +971 (0)2 448 5120 for Abu Dhabi, email us at info@propartnergroup.com or complete the contact form below and we will be delighted to assist you.
Do you qualify for a Innovation License?
Share this article